| | |
| --- | --- |
| | Design Discussions |
From our customer(s):

* Customized background description: Show characters sitting atop a family tree as noted in example. Lower left should show a Colorado mountain scene with 3 doves and clouds. Lower right should show a cruise scene with sun, cloud and 1 dove. To the right of #8, 1 dove. Top Left, Plane carrying banner for a Happy 75th Birthday. Doves represent deceased members of the family, so number of doves is important.
* P1, The Queen. Sitting in Queen's chair with crown. Keep the knitting scene. P2, Customized to show a guy holding a mic in one hand and the other hand pointing forward with the index finger and the thumb extended. Show Karaoke machine as well. Have him wearing "Fat Elvis" type entertainment wear. Keep the small indention in his left cheek, gold tooth, goatee, grey hair and pronounced beer belly. P3, Sally Item Number 807078. P4, show stand with a globe next to him, maybe add laptop the he often uses to communicate with family back home. P5, Add mail bag with a trail of mail dropping from her hands. Keep glasses. P6, Keep mustache/beard and grey hair. Add box of lobsters and shrimp at base of barbecue. Eliminate black circle image above barbecue on image 807049. P7, Add bag of money at his feet & calculator in his hand instead of thumbs up. Show him not smiling as shown. P8, Item number 8017043. P9&P10, Change male to wear clothes similar to item #807132. Dog1, Ali – Customized White pit bull sitting next to #9. Include detail of pink/grey ears. Dog2, Zowe – Customized Black Lab laying next to #10. Include grey around nose and eye brows.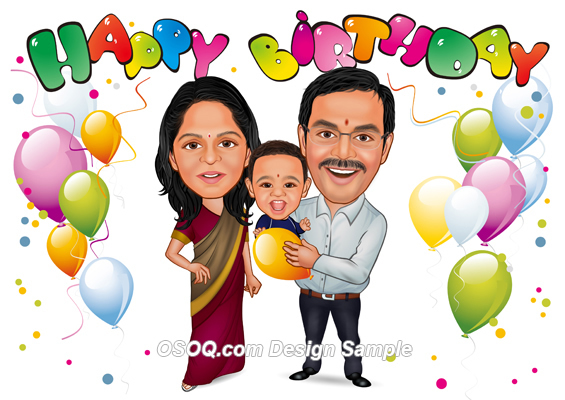 | | |
| --- | --- |
| | Design Discussions |
From our customer(s):

* Dear Sirs, I would like to have a caricature of the attached family photo done. Please mail your quote for the same. I need caricatures of all 3 people in the photo.
| | |
| --- | --- |
| | Design Discussions |
From our customer(s):

* I am looking to have a group cartoon done for a Christmas card. There will be 5 of us and I was hoping to have a Christmas theme for the caricature. Maybe the 5 of us in a Santa sleigh, Santa hats, Rudolph nose, etc.
| | |
| --- | --- |
| | Design Discussions |
From our customer(s):

* I was interested in making a Christmas card with our family as caricatures. I like the robe and bunny slippers for the guy, maybe if you can change it to a red robe or something Christmassy. I like outfit 801017 for the girl, and then include the leopard print hat you can just make it a typical Santa hat but where it is normally red make it leopard print (brown & black) and where its normally white fur make it black fur. And possibly making the trimming on the outfit and boots black. The third person is a baby I don't really see on your website anything holidays for baby so if you could do something like a little elf pj's or something?