| | |
| --- | --- |
| | Design request from the customer: |
* Jen should be wearing jeans, cowboy boots and a nice top. Jen should look like she is "IN CHARGE" and helping him get ready for a show. I would like Jen to seem "organized", "multitasking" and able to handle any situation. I want her to look like she is super busy with a lot going on but able to handle it all. Perhaps have items in her hand like Keys to the van, a set list for the show (piece of paper with that nights songs on it), water bottle for him, an extra acoustic guitar, a Jeff Allen t-shirt to sell, etc. Things a manager would have. If something in her hand says "Water's Edge Music" that would be even better.
Jeff should be wearing jeans, cowboy boots and a button up shirt, I would like it to be plaid like in his photos. Jeff should be standing straight up, holding a ACOUSTIC guitar in his hand (holding the neck of the guitar) as if he is carrying it or have it strapped around him like he is getting ready to play, which ever works better. Jeff should be slightly looking at Jen as if taking instruction.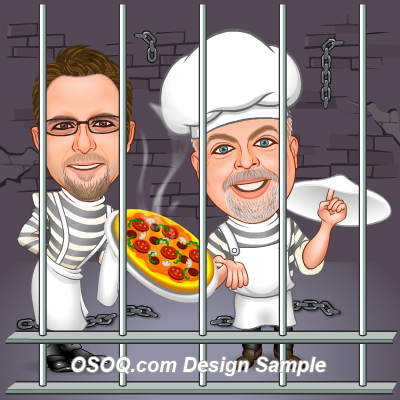 | | |
| --- | --- |
| | Design request from the customer: |
* My friend and I wanted to have a caricature done of us behind prison bars cooking a pizza, but don't know how to achieve this on your web site. If you are capable of doing this it would be greatly appreciated.
| | |
| --- | --- |
| | Design request from the customer: |
* Hi, We are a small graphic design studio. We are in the process of putting a website together and thought it would be fun to put a picture of the 2 of us on which shows we are friendly and fun. We are 2 girls in our 30's and run our agency in Melbourne, Australia. 2 questions, if we supplied you with 2 separate pictures could you have them combined as 1 picture of the 2 of us together. We love the whole coffee culture in Melbourne, so if possible could you have us sitting at a cafe table sipping our coffee? We are hoping to get all our material to our web developer by Wednesday next week.
| | |
| --- | --- |
| | Design request from the customer: |
* My fiancee and I wanted to have personalized caricatures used on our Save The Date postcards. He coaches little league football, and I play tennis, so we thought this would be a good idea to use for the cartoons. We were thinking of having him on the left of me, in a red coaching polo with the letter "G" (as in the Georgia Bulldogs logo), black shorts, ball cap with the "G" as well, and whistle...maybe have a football in his arm or a football under his foot. And since I don't have a dead-on face-on photo of myself, you can have me on the right, leaning towards him (or maybe hugging him with right arm), and tennis racquet in my left hand, pointing someway towards the ground, with maybe a tennis ball or two on the ground. On me, my team colors are red, black, and white too...so any combo of those colors that work best for my shirt and tennis skirt will be fine. Tennis racquet is blue though.
| | |
| --- | --- |
| | Design request from the customer: |
* Please create full bodied caricatures (in color) of my brother & I at the potters wheel. Maybe you could have us holding different tools (also photographed near the wheel) as we both attempt to work on the same piece of clay sculpture (larger than the one in the picture). Or, we could be standing next to a work-in-progress holding our tools and smiling. In the photos, the wheel is clean but you are welcome to add splotches of clay here and there. Whatever you do will probably be fantastic considering your previous works on this site.
| | |
| --- | --- |
| | Design request from the customer: |
* Hello, We are getting married and I were wondering if it would be possible for you to do us as a couple, the groom being a hunter and myself as the typical bride. Groom, hunter, wearing camo jacket, hat and pants, hunting boots, riffle gun on back. Bride, blonde hair, half up and down curly, sweat heart neckline wedding dress white, veil.
| | |
| --- | --- |
| | Design request from the customer: |
* I had emailed support to see if you could make me a caricature of the father and daughter pair in the pictures I have attached in their black (home) Pittsburgh Steelers jerseys (#7 for her #43 for dad as pictured). Would like dad to be smiley not serious. If there was any way to include a Blackberry smart phone in Dad's that would be fantastic. Would be great for them to appear to be cheering, but maybe he could have one arm around her? It would be fantastic to get the completed file before the Super Bowl this weekend if possible. Thank you!